I'm excited to share this chic A-Bag Plus reversible large set sponsored by Palla Handbags. I loved the minimalist design at first sight and the bag is reversible so I can wear it as both a gray bag and ivory bag. The mocha gray/ivory colorway looks best on the gray side due to the placement of the seams along the base. However, you can "train" the bag to look and feel more comfortable on the side and color you prefer. I noticed the ivory side looked better after I had used it for a few days on that side. See the ivory side of the bag as featured in this post. The A-bag plus also comes with a removable inner pouch/wristlet.
In addition to being reversible, there are 7 ways to adjust the straps in order to change the look of the bag. Talk about versatility! In this review I've shared pictures of my favorite ways to wear and carry this bag.
I love the generous size of the bag and the shoulder strap is comfortable. I wish this style came with a clasp in the middle to keep the compartment in a more closed position when worn as a shoulder bag as shown above.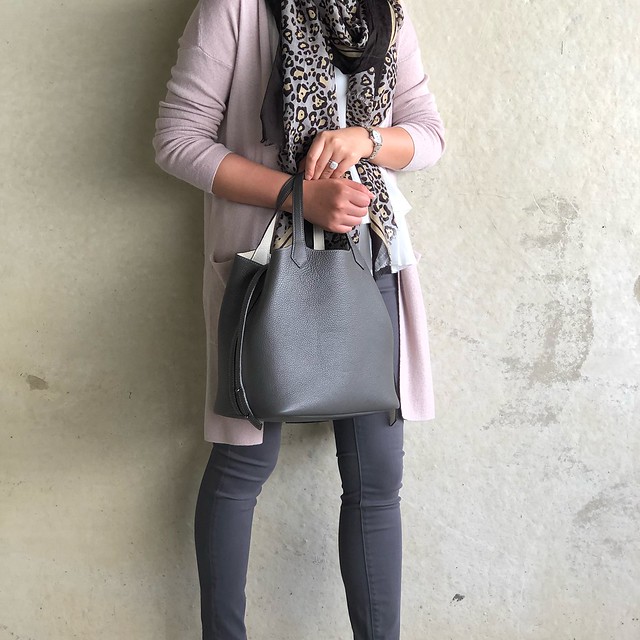 Palla's bags are made of 100% cowhide leather so it has a stronger scent at first. The new leather smell has dissipated since I first received my bag in September. I found that the leather has a good weight to it but it's not heavy unless you put a lot of stuff in your bag. The bags are manufactured in Korea but ship from the United States.
OUTFIT DETAILS
A-Bag Plus reversible large set gifted by Palla Handbags
LOFT Leopard Print Scarf (past season, similar here and here)
LOFT Long Open Cardigan, size XS regular (past season, similar here and here)
LOFT Sateen Five Pocket Leggings in Marisa Fit, size 27/4P (past season color, current season reviewed here)
Halogen Pleated Hem Cami Tank, size XSP
Shinola Runwell 28mm Watch
If you like Palla handbags please use my code @WHATJESSWORE for 15% off your purchase. I would love to know which style you chose! Select styles are available on Amazon
but my discount code only works on Palla's direct website. Thank you for supporting brands that work with whatjesswore.com!